Transform Your Favorite Dessert into your Favorite Breakfast
Have you ever said "no" to a slice of cobbler? That's a rhetorical question. You know the minute you hear the oven beep, you can't wait to welcome the berry scents that will hit your face the moment you pop that sweet thang onto your counter.
Make your oven happy and bake this cobbler made from all things berry. Strawberry, blueberry, raspberry, you get the vibe. This cobbler is the perfect pairing with your after-dinner coffee. But we wouldn't let this cobbler stop at coffee. No, no. It has the potential to be reinvented into something just as delicious with just a little dash of inspiration.
By adding chia seeds and over-night oats into the mix, a berry parfait is just a few ingredients away with the same core tastes of the cobbler, a delicious breakfast awaits. So go ahead and bake that cobbler, your friends will thank you.
Ingredients
The filling
2 cups

hulled and quartered strawberries

2 cups

blackberries

3 cups

blueberries

Juice of 1 lemon

1 teaspoon

vanilla extract

1 tablespoon

cornstarch

1/4 cup

sugar
The topping
1/2 cup

flour

1/2 cup

sugar

2 teaspoons

baking powder

1/2 teaspoon

kosher salt

1 3/4

sticks unsalted butter, cut into cubes

3/4 cups

heavy cream
Directions
1.

Preheat the oven to 375 degrees.

2.

In a large mixing bowl, combine the berries, lemon juice, vanilla, cornstarch and sugar. Mix well to coat the berries evenly and set aside.

3.

To make the topping, mix the flour, sugar, baking powder and salt together. Using your hands or a pastry cutter, mix 1½ sticks of the butter into the dry ingredients until it looks like coarse crumbs. Pour the cream in and mix until the dough just comes together, taking care not to overmix (it should be slightly sticky but manageable).

4.

In a 10-inch cast-iron skillet, melt the remaining butter over medium-low heat. Add the berry mixture and cook gently until heated through, about 5 minutes. Drop the dough by spoonfuls over the warm berries, covering the surface as much as possible. Bake about 30-40 minutes, until the top is lightly browned and the fruit is bubbling. Serve warm.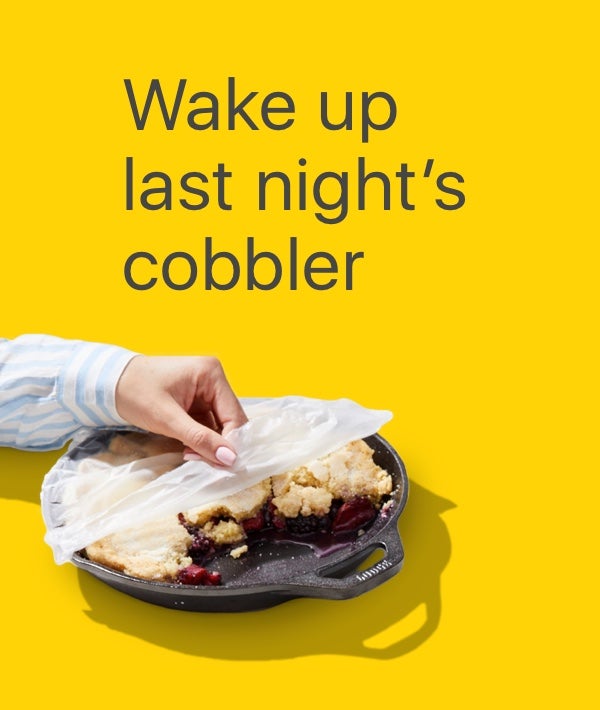 Ingredients
1 cup

oats

1 1/2 cups

almond milk

1/4 teaspoon

cinnamon

1 cup

Greek yogurt

2 teaspoons

pure maple syrup

1/2 teaspoon

vanilla extract

Pinch sea salt

1/4 cup

chia seeds

1/2 cup

almond butter, warmed slightly for a spoonable consistency

1 cup

leftover berry cobbler

Fresh berries or cherries for garnish
Directions
1.

In a small bowl, stir oats with 1 cup of the almond milk and cinnamon. Pour into each of 4 8-ounce mason jars and refrigerate, covered, overnight.

2.

In a separate bowl, stir together the remaining almond milk, ¾ cup yogurt, maple syrup, vanilla, sea salt and chia seeds. Refrigerate overnight.

3.

To assemble, divide the chia pudding among the mason jars, topping the oats. Layer with the almond butter, a spoonful of remaining yogurt and the berry crumble on top. Garnish with fresh berries or cherries. Serve immediately or refrigerate until ready to use.