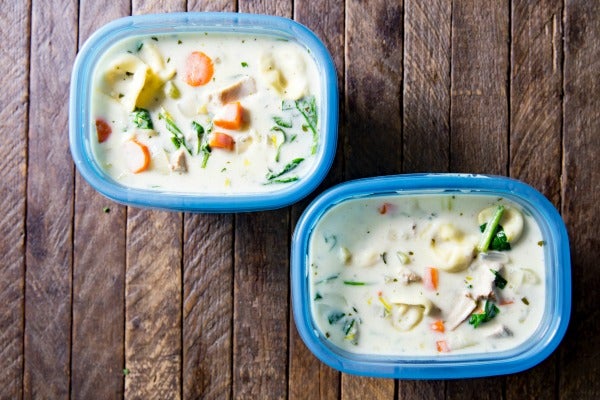 Ingredients
2 lbs

rotisserie chicken, chunked

12 oz

cheese tortellini, cooked according to package directions

4 tbsp

butter

1/2 cup

yellow onion, diced fine

1 cup

carrots, diced

1 cup

celery, diced

1 tbsp

minced garlic

1/3 cup

all-purpose flour

2 cups

heavy whipping cream

4 cups

chicken stock or broth

2 cups

packed baby spinach, roughly chopped

1 tsp

salt

1/2 tsp

garlic powder

1 dash

pepper
Directions
1.

In a large pot, over medium high heat, melt the butter and sauté the carrots, onions, and celery for 6-8 minutes or until the onions start to turn translucent.

2.

Add the garlic to the same pot, and and cook for 30 seconds or until it's fragrant.

3.

At this point, start your tortellini. Cook according to package directions. Usually this means boiling for 6-8 minutes, so plan to have it done around when the rest of your soup is finished.

4.

Add the flour to your pot with your veggies, and stir well, continue cooking for a minute or two until a very light golden color.

5.

Add in the chicken stock, and stir well while adding. This will keep the flour mixture from clumping, and keep it lose.

6.

Add whipping cream (you can use milk)

7.

Allow soup to come to a boil, stir frequently so nothing sticks to the bottom of the pot. Add the chicken, tortellini, baby spinach, and seasonings, and stir.