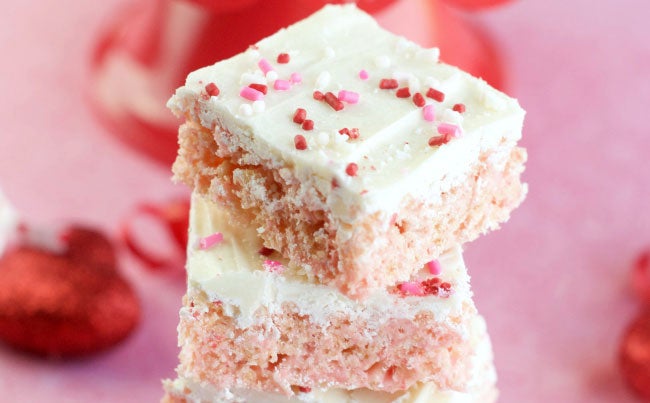 Cherry Chip Rice Krispie Treats
Ingredients
6 cups

Rice Krispies

5 tbsp

butter or margarine

1 1/2 10 oz bags

marshmallows

1 cup

cherry chip cake mix

several drops

pink or red food coloring

1 bag

white chocolate chips

Valentine's Sprinkles
Directions
1.

Pour your Rice Krispies into a large bowl and set aside. In a medium size bowl add your marshmallows and butter and microwave for 1-2 minutes, stirring frequently, until totally melted.

2.

Add a couple of drops of food coloring to your mixture.

3.

Quickly, while it's still hot, stir in 1 C cherry chip cake mix.

4.

Pour over your Rice Krispies and mix until evenly coated.

5.

Grease your hands and press these into either a 9 x 13 inch (well greased) pan or, if you prefer them thinner, a well greased cookie sheet.

6.

Allow to set up for a few minutes.

7.

Melt your white chocolate in the microwave, stirring frequently.

8.

Spread this over your Rice Krispie treats and then quickly add your sprinkles.

9.

Once it's completely set up, use a cookie cutter to cut out hearts.