Baked Lemon Chicken with Olives
Ingredients
1

chicken, cut into 10 pieces, 3½ to 4 pounds

Kosher salt and ground black pepper, to taste

1 cup

pitted green olives

6 cloves

garlic

2

lemons, halved

3 tablespoons

olive oil

1 cup

basil leaves
Directions
1.

Preheat the oven to 425° F.

2.

Season the chicken generously on both sides with the salt and pepper, and place in a baking dish, skin side up.

3.

Scatter the olives, garlic and lemon halves around the chicken. Drizzle with the olive oil.

4.

Roast until the chicken is cooked through, 45 to 50 minutes.

5.

Garnish with basil, tucking around the chicken. Squeeze a little bit of the lemon juice from one of the cooked lemons over the chicken and serve immediately.

6.

Transfer any leftovers from dish into a Glad container, sized to fit, and refrigerate to enjoy later in the week.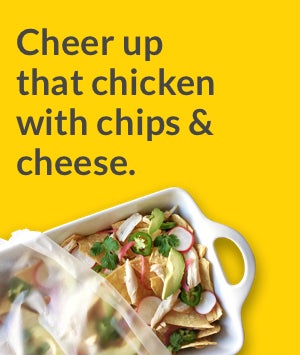 Ingredients
1 9-ounce

bag tortilla chips

1 1/2 cups

shredded Pepper Jack or Monterey Jack cheese

1/2 cup

refried beans

1 cup

shredded leftover baked lemon chicken, see recipe

sliced radishes, sliced avocado, pickled red onion, (optional garnishes)

sliced jalapenos, fresh cilantro, limes, sour cream, toasted pepitas, (optional garnishes)
Directions
1.

Preheat the oven to 375 degrees.

2.

Spray a baking dish with nonstick spray. Arrange half of the chips in one layer on the pan, dollop the refried beans and top with half of the cheese. Place the second layer of chips on top and finish with remaining cheese.

3.

Sprinkle the chicken, making sure that the chips are evenly coated. Transfer the sheet pan to the oven.

4.

Cook until the cheese is melted and the beans and chicken are warmed through, about 10 minutes. Remove the baking dish and garnish with toppings of choice.

5.

Serve immediately.