Spread the good
Kid President
Robby Novak, a.k.a. Kid President, knows a little something about spreading good – he's been sending positive vibes since 2012 in a series of SoulPancake videos that have captured the imagination of millions of viewers. And as he said in his very first video: "If it doesn't make the world better, don't do it."
If someone needs lifting
you send them a rope.
In "How Good Spreads," his 112th (!) video, Kid President reminds us that it takes everyone – kids and people who used to be kids – to make change happen. And the first step is just showing up, looking for something that only you can do to make others' lives a little better.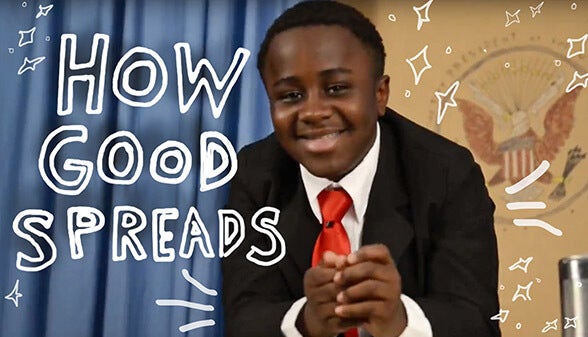 "If someone needs lifting," says Kid President, "you send them a rope." It could be something as simple as filling a Glad® bag with socks for donations, or something way out of your comfort zone. But however you choose to lighten someone else's load, when other people see that they won't be able to help but join in.
"Good spreads when good is spread," says Kid President. "And that's totally how you live."
More real stories of generosity
coming soon
Making a difference isn't hard when
giving is easy
Giving feels great – and it doesn't have to be difficult. We've partnered with Donation Town to help you find local charities ready to accept, and sometimes even pick up, your Glad® bag full of hope.
You can schedule
a donation pickup with ??? by calling:
###
Oh no, good thing we checked
Looks like Donation Town doesn't have a charity in their directory for that zip code yet. If you want to request to have a charity added to the directory, click here.
Or, visit donationdropoff.org to find a drop off location near you.
Oops! We're giving this a little love.
This section is down for maintenance, but please visit our partner Donation Town directly to schedule your pick up.
Schedule your pick up
Powered by Donation Town