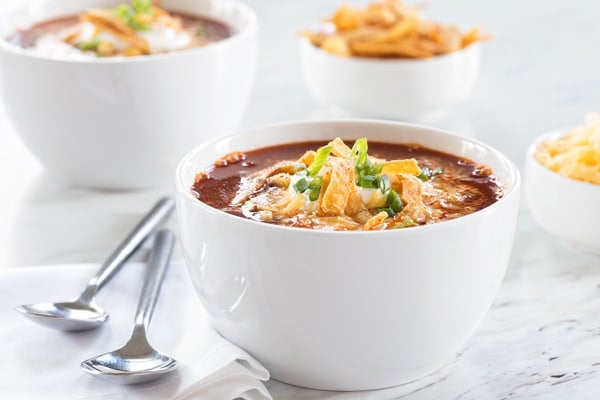 Ingredients
2 tbsp

olive oil

1.5 lbs

ground beef

1 cup

diced onions

3 cloves

garlic, minced

3 tbsp

homemade taco seasoning

2 10 oz cans

diced tomatoes with green chilies, undrained

2 8 oz cans

Tomato sauce

2 15 oz cans

black beans, drained and rinsed

1 14 oz can

corn

2 cups

water

salt and pepper to taste

shredded cheese, optional

sour cream, optional

sliced green onion, optional

tortilla strips, optional
Directions
1.

Heat oil in a large skillet over medium heat. Add in ground beef and cook until the beef starts to brown. Add in onions and garlic and cook until the beef is completely browned. Drain excess oil.

2.

Return the pan to medium heat and stir in homemade taco seasoning. Cook for 2 minutes, stirring constantly.

3.

Transfer ground beef mixture to a slow cooker.

4.

Stir in diced tomatoes, tomato sauce, black beans, corn and water.

5.

Cover and cook on low for 6-8 hours, or high for 3 hours.

6.

Add salt and pepper to taste.

7.

Before serving, top with shredded cheese, sour cream, green onion and tortilla strips.