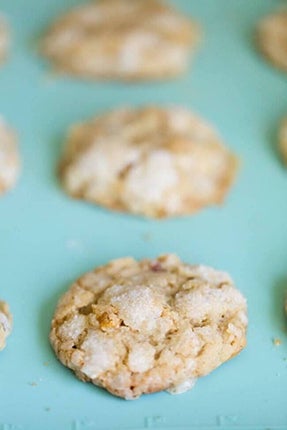 Ingredients
1 cup

brown sugar

1 cup

white sugar

1 cup

shortening

2

eggs

1 tsp

vanilla

2 cups

flour

1/2 tsp

baking soda

1 tsp

baking powder

1 cup

uncooked oats

1 cup

coarsely crushed corn flakes

1 cup

salted peanuts
Directions
1.

Cream shortening and sugars until light; add eggs, vanilla and beat well.

2.

Sift flour, soda and baking powder; add to creamed mixture.

3.

Work in peanuts, corn flakes and oats.

4.

Cover with Glad® Press 'n Seal® and chill dough.

5.

Shape into balls; dip in cold water; roll in sugar.

6.

Bake at 350 for 12 minutes

7.

Yields about 4 ½ dozen cookies and one very happy family.