Ingredients
2 3/4 cups

flour

2 teaspoons

baking soda

1/2 teaspoon

salt

2 teaspoons

ground ginger

1 teaspoon

ground cinnamon

1/2 teaspoon

ground allspice

1/4 teaspoon

ground cloves

1 1/2

sticks butter, softened, plus more for greasing the pans

1/4 cup

plus 2 tablespoons sugar

1/4 cup

plus 2 tablespoons packed dark brown sugar

1

egg

1/4 cup

plus 2 tablespoons molasses

Royal icing or store-bought icing, for decorating
Directions
1.

In a medium bowl, whisk together the flour, baking soda, salt, ginger, cinnamon, allspice, and cloves. Set aside.

2.

Using the bowl of an electric mixer fitted with the paddle attachment, beat the butter and sugars on medium speed until light and fluffy, about 2 minutes. Beat in the egg and molasses.

3.

Add the flour mixture and mix on low speed until combined. Divide dough in half and shape into two discs. Wrap the discs individually in Glad Press'n Seal and chill in the refrigerator until firm, at least 1 hour or up to 3 days.

4.

Preheat the oven to 350 degrees. Grease 2 baking sheets with butter.

5.

Remove the dough from the refrigerator and place on a lightly floured work surface. Roll to about ¼-inch thick, using flour as needed to prevent sticking. Cut out shapes with a cookie cutter and transfer to the prepared baking sheets. Gather the dough scraps and knead into a ball, then roll out and cut again, adding more flour as necessary. Repeat until scraps are used up.

6.

Bake the cookies, rotating the sheets from top to bottom halfway through, for about 10 minutes or until firm. Let the cookies cool on the baking sheets for several minutes until set, then transfer to a rack to cool completely. Repeat with the remaining dough.

7.

When the cookies are completely cool, decorate with icing as desired. Store in GladWare containers, sized to fit, in a cool, dry area.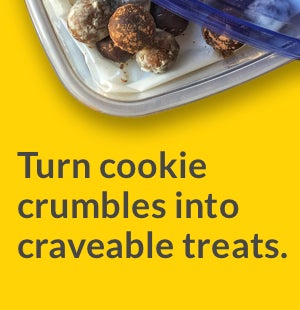 Ingredients
2 cups

ginger cookie crumbs

4 ounces

cream cheese

4 ounces

peanut or almond butter

Powdered sugar or cocoa powder, for dusting
Directions
1.

In a food processor, pulse the cookie crumbs, cream cheese and nut butter together until well blended but still somewhat stiff. If it feels too soft to handle, refrigerate until firm but pliable. Shape dough into 1-inch balls, and place on a sheet pan. Freeze for at least 20 minutes, until hardened.

2.

Dust cookie balls with powdered sugar or cocoa powder and store in refrigerator until ready to eat.

3.

Note: To make these nut free, use 8 ounces cream cheese and eliminate the nut butter.