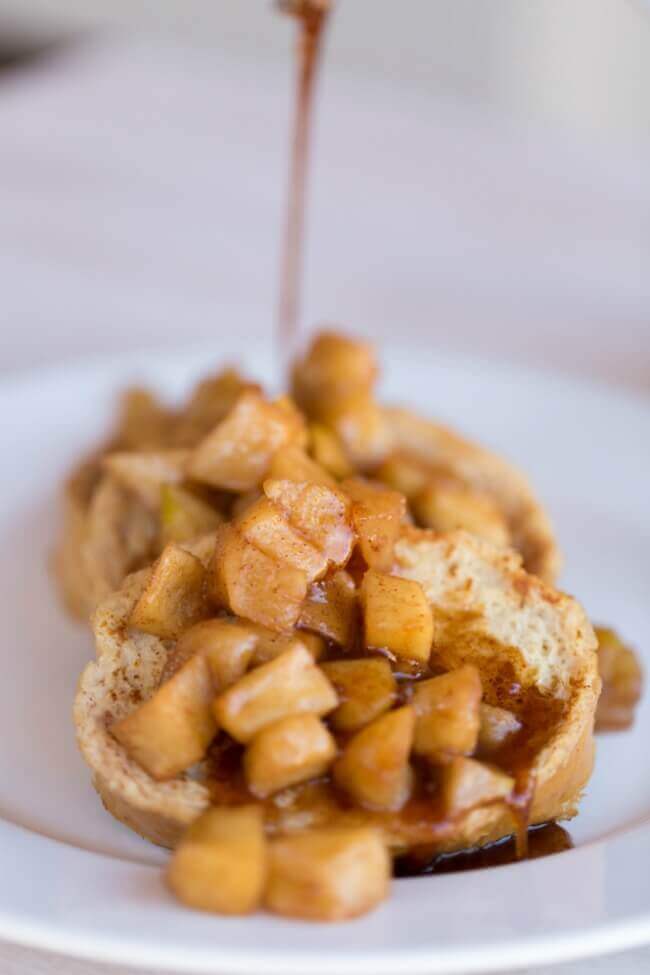 Ingredients
6

Granny Smith apples

water

3 tbsp

lemon juice

3 tbsp

butter

1/2 cup

brown sugar

1 tbsp

cinnamon

1/2 tsp

pumpkin pie spice

1/2 tsp

salt

1 tbsp

vanilla

1/2 cup

maple syrup

15 slices

French bread, (my pieces are about 6 inches)

3 cups

whole milk

6

eggs

2 tbsp

vanilla

1 tbsp

cinnamon

1/2 tsp

salt
Directions
Apples
1.

Prepare apples ahead of time. Peel and dice Granny Smith apples and soak in water and lemon juice for 4-5 minutes.

2.

Drain and place in a Glad® Big Bowl covered in ClingWrap until ready to use.

3.

In a large pot, add butter, brown sugar, salt, cinnamon and pumpkin pie spice. Stir over medium heat until butter is melted.

4.

Add apples to pot and stir. Cover; bring to simmer for 3-5 minutes. Remove lid and let simmer for another 5 minutes or until apples are soft. With slotted spoon, remove apples from pot.

5.

Add ½ cup maple syrup to the pan and simmer for 4-6 minutes until cinnamon apple syrup has reduced slightly and thickened.
French Toast
1.

Add milk, eggs, cinnamon and vanilla into blender. Blend on low for 30 seconds and pour mixture into glass pie pan

2.

Preheat a griddle pan on medium low; slice French bread into one inch slices.

3.

Lightly butter pan. Dip each piece into milk and egg mixture and place on griddle. Cook 1-2 minutes on each side, or until golden brown. Remove from pan and repeat until all pieces are cooked.