A real story of generosity
ayesha curry
As a Food Network host and cookbook author, Ayesha Curry knows food. But as a mother of two daughters, she also understands its connection to growing up strong: good food is literally the foundation for growth. So when Ayesha learned about No Kid Hungry, a campaign that provides nutritious meals to kids in need, in her words: "I instantly fell in love."
Sharing food is simple
but can make a huge difference.
For Ayesha, healthy food is a perfect example of how small acts of generosity can improve the world. Preparing a healthy meal is simple, but its results are anything but.
"I love all things food and how it brings people together," she says.
On a recent visit to the East Oakland Youth Development Center (EOYDC), which helps kids ages 6–24 prepare for employment, higher education and leadership opportunities, Ayesha showed exactly how food brings people together. While sharing homemade snacks and eating a meal, she was also able to share conversations with the EOYDC's staff and local youth.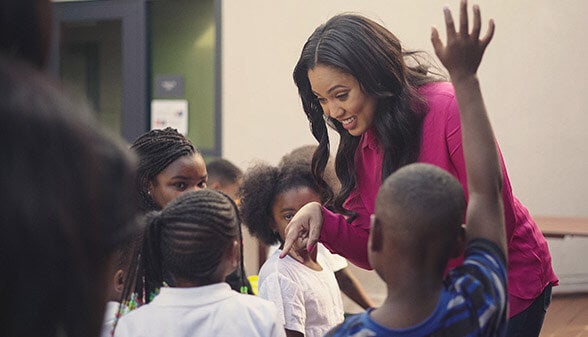 But it doesn't take a big visit to make a big impact on the lives of those around you.
"There are so many ways to help besides fundraising that you can do on a daily basis," says Ayesha. "When you're preparing a lunch for your child, prepare a little extra food for them to take to school to share with a friend that might not have any. It's simple, but can make a huge difference."
More real stories of generosity
coming soon
Making a difference isn't hard when
giving is easy
Giving feels great – and it doesn't have to be difficult. We've partnered with Donation Town to help you find local charities ready to accept, and sometimes even pick up, your Glad® bag full of hope.
You can schedule
a donation pickup with ??? by calling:
###
Oh no, good thing we checked
Looks like Donation Town doesn't have a charity in their directory for that zip code yet. If you want to request to have a charity added to the directory, click here.
Or, visit donationdropoff.org to find a drop off location near you.
Oops! We're giving this a little love.
This section is down for maintenance, but please visit our partner Donation Town directly to schedule your pick up.
Schedule your pick up
Powered by Donation Town