Quick Tie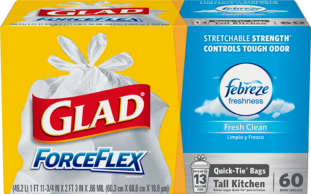 Kitchen ForceFlex Fresco Aroma a Limpio Quick-Tie
*La disponibilidad puede variar – por favor llama a tu tienda local para verificar si tienen el producto en existencia.
Nuestra mejor bolsa, ultra resistente y expansible, con Stretchable Strength® y la frescura de Febreze® para una neutralización continua de olores.
La Textura de Diamante de las bolsas ForceFlex® de Glad® se expande para evitar desgarros

Neutraliza los olores continuamente y deja un fresco aroma a limpio*

La tecnología expansible Stretchable Strength® usa menos plástico†

Tamaño: 13 galones
*Basado en prueba de duración.
†Comparadas con otras bolsas flexibles de 13 galones.
FEBREZE es una marca registrada de The Procter & Gamble Company, Cincinnati, Ohio, y se usa bajo licencia de The Glad Products Company.