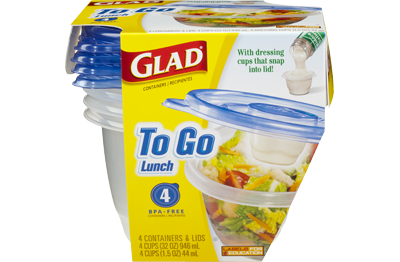 Conserva tu almuerzo fresco y siempre listo con una taza separada integrada para condimentos y aderezos.
Producto no contiene Bisfenol A (BPA)

El plástico en los productos Glad® no contiene Bisfenol A (BPA)

Taza para aderezo

Con una taza que se conecta a la tapa para almacenar condimentos o aderezos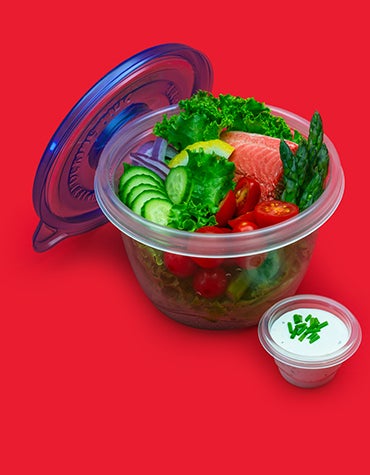 Seguro para uso en microondas

Los recipientes Glad® no se derriten o deforman en el microondas

Seguro para uso en la lavadora de platos

Resiste el calor y repele la humedad
El tamaño perfecto para todo
Lo suficientemente grande como para acomodar una porción generosa de ensalada y dos cucharadas de tu aderezo favorito.
Dimensions: Volumen de la taza para aderezo: 1.5 onzas | 44 ml
Volumen del recipiente para almuerzo: 32 onzas | 946 ml

Dimensiones: 6 pulgadas x 3.8 pulgadas
Won't fit your bin? Find the perfect bag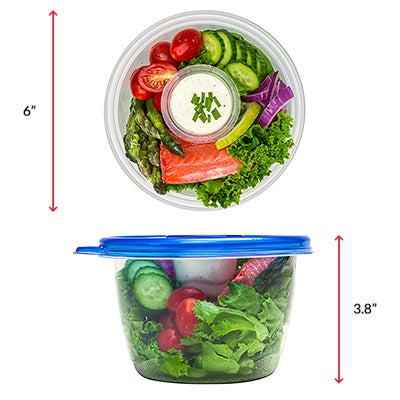 You Might Also Like
Help Our Planet with
Teachable Trash
Get tips on what to recycle, compost, toss, and more.